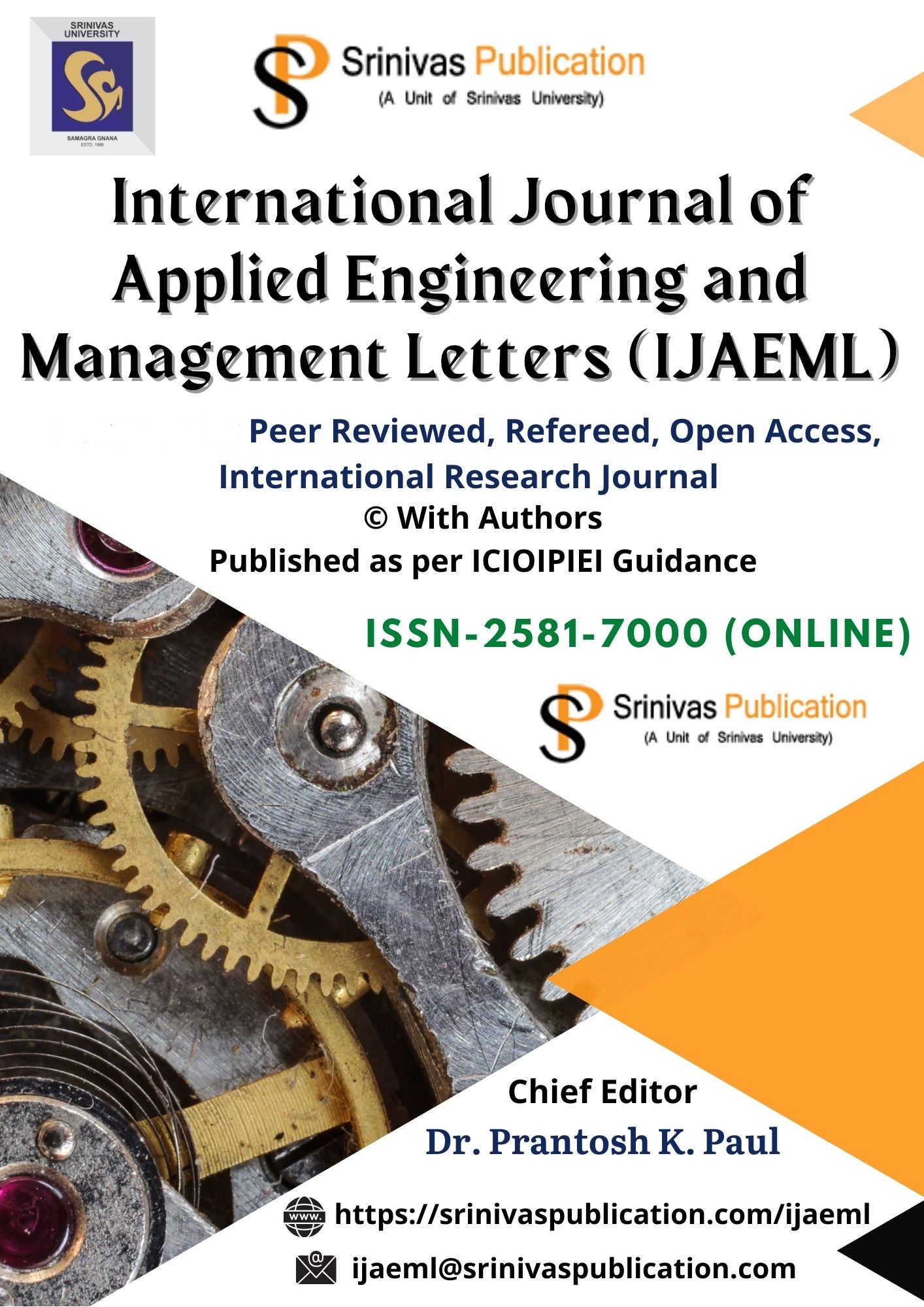 Country of Publication: India
Publisher: Srinivas Publication, Mangalore, Karnataka, India
Format: Open Access
ISSN: 2581-7000
Year of Start: 2017
Available from: Crossref, Indian Citation Index, Zenodo, OpenAir
Frequency: 4 Issues per year
Language: English
Scope: Multidisciplinary (Management, Technology, and Social Sciences)
Article Processing Charge: 2000 £ (Pounds) but currently free publication for first 10 years (till year 2027)
Types of Journal: Academic/ Scholarly Journals
Open Access: Yes
Indexed & Abstracted: Yes
Policy: Double blinded Peer Review
Publication Ethics: Editorial Ethics Policy
Review Time: Six to Eight Weeks Approximately
Contact & Submission Email: ijmts@srinivaspublication.com
Paper Format: View Here / Download Here
International Journal of Applied Engineering and Management Letters (IJAEML) (ISSN - 2581-7000) is an online, Quarterly, peer-reviewed research journal published by Srinivas Publication, Srinivas University, Mangalore, India. It provides a global publication platform for Professors, Research scholars, academicians, professionals and students engaged in Research. The main aim of IJAEML is to become the world's leading journal that is preferred and trusted by the community through publishing authentic, peer-reviewed and scientifically developed research articles of international caliber. IJAEML publishes research papers in the field Management and Technology. The Journal is online open access, published quarterly and the language of the journal is English. IJAEML accepts exceptional research contribution from the authors in the form of original papers, review papers, conceptual framework, analytical and simulation models, case studies, empirical research, and technical notes. The Article Processing Charge (APC) subsidised for Srinivas University Faculty Members, Students and Research Scholars from Srinivas University Research Fund.